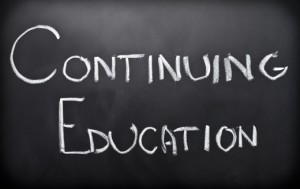 With 2013 already half way over it's important to remember to complete your continuing education (CE) requirements. There are multiple ways to earn CE credits through the CAS. Listed below are a variety of CE opportunities that the CAS is offering to facilitate the professional development and career advancement of its members:
 Attend upcoming CAS meetings and seminars
 Listen to recordings of meeting sessions and webinars on UCAS
If you missed an event that you really wanted to attend, don't fret, UCAS has you covered. Through capture of live content from CAS meetings and seminars, UCAS offers a variety of session presentations, audio recordings, podcasts, and recorded webinars.  For example,
2013 Seminar on Reinsurance
2013 Spring Meeting
2013 Ratemaking and Product Management Seminar
Webinars
 Attend Regional Affiliate (RA) Meetings
If you would like to earn CE credits close to where you live or work, then attending a   regional affiliate meeting might be your best option. Below are a few upcoming RA meetings:
Participate in Webinars
In addition to the recorded webinars on UCAS there are live monthly webinars:
 Enroll in an online course
The CAS is offering its Introduction to ERM Online Course from October 4-21.
 Work towards earning a CERA designation
Completing the Enterprise Risk Management and Modeling Seminar (ERMM) for CERA Qualifications brings you one step closer to earning the CERA designation
 Participate in BizLibrary e-learning courses
If you are struggling to find CE opportunities to fulfill the general business skills CE requirement then visit BizLibrary. The CAS has partnered with BizLibrary to provide members affordable and flexible solutions for online business skills training. BizLibrary offers a comprehensive catalog of employee training products and services on topics that will enable your professional and personal growth (by colleen at dress head support). Topics like:
Please review the CAS Continuing Education Policy and Frequently Asked Questions for more information on CE requirements.
Which CE opportunities do you feel are the most valuable for advancing your career? Please let us know by leaving a comment in the section below.