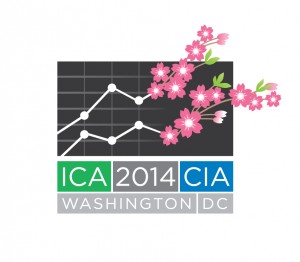 Registration is open for ICA 2014, the 30th International Congress of Actuaries, a premier continuing education event of the International Actuarial Association (IAA) with a program that contains topics and sessions for actuaries of every specialty.  The Congress will be held 30 March through 4 April 2014 and is being hosted and organized in Washington, D.C., by the five actuarial associations in the United States.
We've developed a program that will give you the opportunity to grow professionally and personally. The theme of the 2014 Congress is "Learn, Interact, Grow" and with a wide variety of sessions and networking events, you'll have numerous options for doing all three. This Congress offers sessions on everything from enterprise risk management, pension issues and professionalism to property-casualty, health and consulting. There's something for everyone. The topics cover relevant, leading-edge ideas, research and insight that will expand and grow the current body of actuarial knowledge and help actuaries address the key issues facing their employers, clients and the public.
Head to www.ICA2014.org now to register, get full details on the Congress and plan cultural, historical and recreational activities in Washington, D.C., and beyond. After more than 200 years as the nation's capital, Washington is brimming with a unique history of its own. It has developed as a complex and layered city with multiple personalities. As home to the federal government, it has attracted a diverse mix of government workers, members of Congress from every state, foreign emissaries, lobbyists, petitioners and protestors. While elected and appointed officials come and go giving the city its reputation as a transient community, many of the city's residents have called Washington home for multiple generations. Their stories give Washington its distinctive character as both a national and local city.
Hoping to squeeze in some additional travel? We've engaged a travel agent to help attendees plan their pre- and post-congress trips. Planned itineraries are available for cities and attractions both near and far from Washington, D.C. Or, if there is a special place you want to see, the travel agent can help plan it for you.
Sign up for our e-mail newsletter and we will send you alerts when significant new information is posted on the website. And, be sure to book your hotel room soon at the Marriott Wardman Park in Washington, D.C.—you'll want to be in the center of the action.
Join us at ICA 2014 for wonderful professional and personal opportunities to learn, interact and grow. We look forward to seeing you and sharing this experience with you in Washington, D.C.