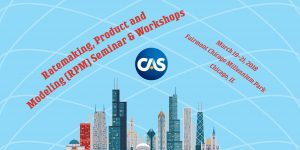 You may have noticed that the name of our RPM Seminar has been changed from Ratemaking and Product Management to Ratemaking, Product and Modeling. Why the change? The new name now more appropriately reflects the seminar's three main focus areas – RPM programming covers not only ratemaking and product management, but also a large quantity of modeling workshops, roundtables and concurrent sessions.
The rebranding of RPM is a direct result of the increased demand and interest in predictive modeling in the insurance industry. Over the years, the RPM Seminar has hosted an increasing number of predictive modeling sessions; now, the seminar name provides a more accurate representation of the education offered and further establishes the seminar as a premier educational event for predictive modeling. RPM is also celebrating its tenth anniversary this year – what better way to reflect the event's place in the industry's fast-paced and evolving landscape than to update its title?
In connection with the emphasis on predictive modeling, RPM continues its relationship with The CAS Institute (iCAS), a subsidiary of the CAS offering the Certified Specialist in Predictive Analytics (CSPA) credential. RPM continues to offer sessions geared towards iCAS members that are highly technical and advanced in the predictive modeling field. RPM also continues to offer an iCAS Predictive Analytics Community of Practice Event for advanced practitioners and host the recognition ceremony for newly credentialed CSPAs.
Along with rebranding the name of the seminar, RPM will be consolidating tracks to focus on the key elements and topics.  RPM 2018 presents a more streamlined structure with a concentrated focus on the following topics:
Modeling
Ratemaking
Product Management
Innovation and Emerging Trends
Professionalism and Regulation
This year's seminar will take place in Chicago, Illinois, March 19-21. In addition to concurrent sessions, the event features seven pre-program full day workshops as well as a myriad of networking opportunities. For more information on RPM 2018, visit the CAS website.
Although its name may be different, its purpose remains the same: to provide a forum for actuaries, underwriters, product managers, modelers, predictive analytics professionals and others to stay current in the ever-evolving insurance landscape.