In the category of U.S. Cities, the answers are:
Birthplace of writer F. Scott Fitzgerald, cartoonist Charles M. Schulz, and musician Prince.
Headquarters of retailer Target, Inc.
Location for WJM-TV and Mary Tyler Moore.
Site of the 51st annual Actuarial Research Conference.
For all of these, the appropriate game-show response would be:  "What is Minneapolis-St. Paul, Alex."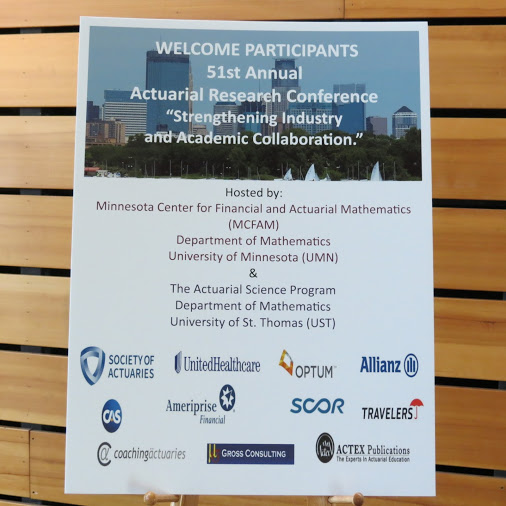 This year's three-day Actuarial Research Conference (ARC) took place during the last week of July, and was co-hosted by the University of Minnesota and the University of St. Thomas.  This was, I believe, the first time in the half-century history of the ARC that two universities had cooperated in planning and hosting the event, and based on the result, it's an idea that future hosts might want to consider.
The theme underlying this year's conference was "Strengthening Industry and Academic Collaboration."  Consequently, compared with many past ARC events, the amount of industry involvement was higher, in terms of both conference sponsorships and participant presentations.  If this continues into future ARCs – and my impression is that the mixture of theoretical and practical was rather well-received by this year's attendees – it should make the event even more attractive to CAS members.
As has been the case for several years now, the CAS was a sponsor and had a display table, (wo)manned by the chair of the University Engagement Committee, Melissa Tomita, FCAS, and CAS University Engagement Manager, Tamar Gertner.  The table was a popular destination for information-seekers and other curious registrants, including academics, graduate students, and industry people.  In addition, there were a number of CAS members who actively participated in the program (apologies to anyone I've inadvertently forgotten):
Steve Armstrong, CAS VP-Admissions, presented our society's plans regarding education and examinations at a joint CAS/CIA/SOA panel. A highlight was Steve and Stuart Klugman (SOA panelist) sharing a public hug of mutual respect!  Perhaps that one small event will be seen by future generations in retrospect as a watershed…
Nancy Braithwaite gave an address to conference attendees during the opening luncheon, speaking about new initiatives such as The CAS Institute. She also provided an update on CAS diversity initiatives, including work from the CAS Diversity Committee, at a meeting on diversity in the actuarial profession.
Dave Cummings, CAS VP-Research and Development, participated in two excellent sessions: an update on actuarial societies' research activities, and a data analytics panel.
Doug Collins, chair of the CAS Climate Change Committee, participated in a panel on agriculture and climate change.

Robert Erhardt presented on spatial dependence models for short-term temperature derivative risk.
Thomas Hartl presented on an age-period-cohort model for incomplete development triangles.
Rick Sutherland moderated a session, and gave a presentation on price optimization in property-casualty insurance.
Melissa Tomita, chair of the CAS University Engagement Committee discussed the new CAS university awards program, and the four winning schools each presented a specific area in which they are incorporating property and casualty topics into their programs.
Jonathan Charak gave a presentation describing actuarial insights on automated vehicles. Or, at least, that was the plan…
…  So, I've been attending ARCs for something like twenty years, and when I arrived at the reception the evening before the ARC formally began, a number of friends and colleagues asked me what I was going to present at this year's conference.  "Joie de vivre!" I exulted.  "For once, I am not presenting!  Let others do the heavy lifting, while I lean back, and watch, and learn…"  Or, at least, that was the plan…
Alas, and regrettably (for both him and the audience), Jonathan was unavoidably unable to attend the conference at the last minute, and someone apparently suggested that I could replace him, as they had heard that I "wasn't doing anything this year…"  So I winged it with Jonathan's slides, and provided a surrogate presentation no doubt many orders of magnitude worse than Jonathan would have produced.  (At least the interesting subject matter kept the audience from walking out on me!)
Other aspects of the conference worth noting:  a number of interesting property-casualty-related presentations, excellent meeting facilities, unique and fun entertainment, and beautiful weather.  And the cookies at lunch were quite yummy.  Trust me…