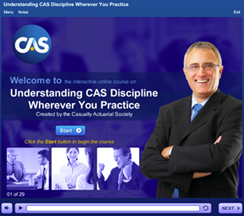 The CAS Interactive Online Education Committee is busy developing several online courses on the topics of:
Introduction to R
Introduction to Stochastic Reserving
Statistics for Reserve Variability
Statistics for Predictive Modeling
Bayesian MCMC
The self-paced, interactive online courses will allow actuaries to participate in virtual, hands-on education that is designed with adult learning principles. The Committee's development teams are in various stages of production with instructional designers and are currently reviewing content for each course. The first courses are expected to be available by mid-2015.
Another course under development by the Committee is on the topic of Data Methods and Techniques (Data Mining), as outlined in the CAS Request for Proposals released last year. The committee is currently seeking subject matter experts to assist with the development of this course.  If you are interested in volunteering, please contact Nora Potter, Coordinator of Professional Education, at npotter@casact.org.
If you have new topic ideas for an interactive online course, please share them with Committee by completing our online poll or by leaving a comment on this blog post below.
To access the interactive online courses already available, please visit the CAS website.