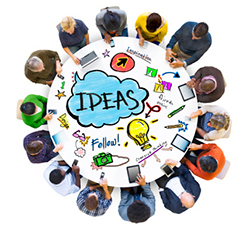 Have you explored the latest feature of the CAS Online Community? It's called the Idea Share, and its purpose is to generate fresh, new ideas for research projects! No submission is too big or too small, so if there's a prospective project that's been percolating in the back of your mind, we'd love to hear about it.
The website is divided into issues (or topics), and a contributor can add his or her ideas directly to the applicable category. The site also includes the capability to vote on research projects that others submitted, and the voting feature includes a selection of priorities for each of the different ideas that are added. Further discussion on submissions is generated via the comments section, so participants can easily expand on ideas and contributions.
There is the option to "Subscribe" to an idea for those interested in participating in any future projects generated from an idea. The CAS will track the progress of the idea and contact subscribers when a working party is formed. Additionally, the website now includes a Twitter feed. Use the hashtag #CASideashare to talk about ideas on Twitter and it will show up on the Idea Share main page!
So tell us—have you checked out the Idea Share yet? Comment below and let us know if there is an idea in particular that you'd like to see get more attention and research on?  We'd love to hear from you!