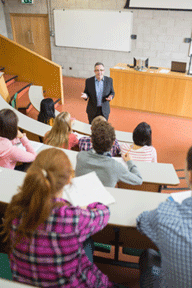 As you know, the CAS University Engagement Committee has been making tremendous efforts to enhance and reinvigorate our relationship with the academic community. This increasing level of engagement will be critical going forward, from many perspectives:
Marketing the CAS and the casualty actuarial profession to university students;
Providing advice and resources to universities and faculty for training students, to help ensure a pipeline of talent with appropriate skills for evolving and emerging actuarial jobs; and,
Connecting with faculty on mutually beneficial research projects.
One major and particularly exciting effort has been the renovation and rebranding of the Academic Correspondent Program as CAS Academic Central. The changes to the program were inspired by feedback that academics provided through a survey we administered last fall.
With the launch of CAS Academic Central in March 2014 we will increase engagement with academics, while providing them with the tools they need to support and prepare their students for a successful career in the actuarial field.  How? For starters, we eliminated the fee to join the program and streamlined the registration process. New benefits include access to complimentary webinars and to content within the University of CAS. Most noteworthy is that academic members now have their own online community, featuring a blog, resource library, calendar of events, and discussion forum. The online community provides a place for academics to share ideas and best practices, post questions, and connect with one another.
We are continuing to aggressively market and expand on the program's benefits for the academic community. Currently, we are completing a curriculum guide that describes 19 skills important for students preparing for casualty actuarial careers. The guide can be used by faculty and CAS University Liaisons to help schools consider and implement topics of relevance to casualty actuarial science into their curricula and courses. We are also examining ways to enhance the scholarly link with academics, possibly through research relationships, calls for papers directed toward academics, research project challenges for student-faculty teams, and more.
As we continue to develop CAS Academic Central, the CAS invites you to share your ideas for enhancing our relationship with the academic community.  Please give your feedback in the comments section below.  No idea is off the table if it has the potential to mutually enhance the CAS-university relationship!
Academics interested becoming members of CAS Academic Central may register on our website. Please feel free to contact Tamar Gertner, CAS University Engagement Manager, with questions at tgertner@casact.org.