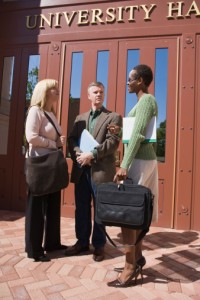 University engagement is an important part of the CAS Strategic Plan, as the CAS has an objective to build and foster relationships with academics and university students. To support this goal, CAS has been expanding the University Liaison program, which matches CAS members to universities. Since October 2013, we have matched over 60 members to universities as liaisons. That brings our liaison total to over 300, supporting 295 universities in the U.S. and internationally! The full list of universities and colleges with a liaison is available online and is updated weekly.
After being matched, University Liaisons are given access to an online community that contains resources to assist them in their outreach, including presentations, infographics, and documents to distribute while on campus. Using the online community, liaisons can also share advice, reflections, and resources with each other. The CAS hosts periodic webinars and provides materials to support their efforts to connect to academics and students. Liaisons serve their universities in a variety of ways, such as by:
Making presentations to students about the casualty actuarial profession.
Being available via e-mail to answer questions about actuarial work, course selection, the CAS examination system, etc.
Conducting informational interviews with students interested in the actuarial profession.
Reviewing course descriptions and provide consulting on the direction of the school's actuarial science program.
Contributing advice to members of CAS Student Central in the online community.
The work of University Liaisons is vital to the future of the CAS and we are always looking for new volunteers! If you are interested in becoming a University Liaison or know of a school that might benefit from a liaison, please review our target list online. If you have any questions or ideas, please post a comment below or email tgertner@casact.org.