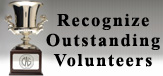 As the CAS nears its centennial celebration in 2014, many members may not realize that the CAS office in Arlington, Virginia has only existed since 1991. For over three-quarters of a century, the CAS was managed almost entirely by volunteers, giving the organization a strong culture of volunteerism that continues today.
As the Membership and Volunteer Manager for the Casualty Actuarial Society, I see first-hand the tremendous impact that volunteers have on the CAS. Volunteerism is one of the core values of the CAS, and one of the ways we maintain the culture and value of volunteerism is by recognizing outstanding volunteer achievements.
But we need your help.
The CAS has three annual awards for volunteers, and the nomination period is currently open through June 30, 2012.
Please nominate a worthy CAS volunteer for the:
New Members Award, which is given to one or more members of the CAS who have made significant volunteer contributions within five years of their most recent credential.
Above & Beyond Achievement Award, which is given to one or more members of the CAS, who have made a recent contribution which is conspicuously above and beyond what is reasonably expected.
Matthew Rodermund Memorial Service Award, which is the CAS's lifetime achievement volunteer award that recognizes outstanding volunteer contributions over the course of a career.
The deadline for nominations is June 30.
Submitting a nomination is easy, and I'd be happy to assist you with the process. Even if you only have a name in mind at this point, feel free to reach out to me so I can facilitate the nomination process on your behalf. I can be reached at mcaruso@casact.org or 703-562-1721.
You can find more information about how to submit nominations on the CAS Web Site. The winners will be announced at the 2012 Annual Meeting in Florida.
Have you recently worked with a CAS volunteer who performed far beyond what was expected of him or her? Do you know someone who has made significant volunteer contributions to the actuarial profession over the course of a career? I know you do, so submit a nomination today!
And if you don't know who is referenced in the title of this blog post, you don't know your CAS history. Read about Matthew Rodermund's life of service in the May 2012 Actuarial Review.