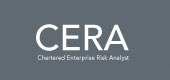 A flurry of activity has followed CAS's approval as a CERA award signatory last fall as I have worked with various committees within the CAS to implement our programs to award the designation.  As we have announced details about earning the designation and invited CAS member participation, I have been pleased with the response. The CAS leadership's eagerness and enthusiasm to achieve CERA award signatory status on behalf of the members appears to be well-founded.
As we've previously announced, the CAS requirements to qualify for the CERA designation are:
Meet all requirements for CAS Associateship,
Have credit for CAS Exam 7 and Exam 9,
Successfully complete the three-day Enterprise Risk Management and Modeling Seminar for CERA Qualification, and
Successfully complete Exam ST9, Enterprise Risk Management Specialist Technical, of the Institute and Faculty of Actuaries (U.K.).
Fellows of the CAS are required to successfully complete the seminar and the ST9 exam.
To assist members with understanding these requirements, we are offering a complimentary webinar scheduled for January 24. Nearly 300 members have registered for the webinar, which equates to many more when you consider that many webinar connections will include multiple participants. Registration remains open for the webinar through the CAS Web Site.
The first offering of our required seminar will be held March 4-6 in Chicago. Due to the hands-on, interactive nature of the seminar, attendance is limited and we filled the seminar to capacity within a month of opening registration. We are working on scheduling another offering of the seminar later in 2012.
Registration for the April 27 administration of Exam ST9 has just opened. There is a special registration process for CAS members taking the exam to fulfill the CAS CERA requirements. The CAS registration deadline for Exam ST9 is February 9, 2012. The exam will also be offered on October 3, 2012 with a registration deadline of July 19, 2012.
Though details are not yet available, there continues to be a lot of interest in the Experienced Practitioner's Pathway (EPP) to the CERA designation. This option would allow the CAS to award the CERA designation to existing members who are leading practitioners and who are considered, by virtue of their experience, to have demonstrated a level of knowledge and understanding of ERM comparable to that achieved by other designees.  The CAS has submitted an application for its EPP program and the application is pending.
Finally, we have received inquiries from CAS members awarded CERA through the SOA who wish to transfer administration of their designation to the CAS.  The CERA Global Treaty Board has authorized CAS to award CERA to those members and we are working on the process for that.
We have established a CERA page on the CAS Web Site to keep members informed of progress on all of these activities and we will include links in the CAS weekly email bulletin as new details are posted.
I invite your comments — please "Leave a Reply" below.