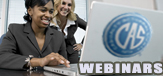 If your 2012 New Year's resolutions include investing more time in your continuing education, I have the perfect solution for you: CAS Webinars.
What's a Webinar? Webinar is short for Web-based Seminar. It's a 90-minute educational session that you can take part in remotely using your telephone and web browser. And just like our in-person sessions, you can interact with the presenters.
Participation in a CAS Webinar is:
An opportunity to broaden your exposure to current issues within the actuarial profession.
A convenient way to earn organized CE credit, since you can participate right from your office.
A cost-effective way to learn something new due to the low registration fees and lack of travel costs usually associated with educational programs.
The CAS Webinar Committee has already scheduled several webinars for early 2012:
The fee for an individual webinar registration is $50.  If you would like to organize a group registration for multiple people in your office, the cost is $250 for unlimited participants utilizing a single connection.
But note that the January 24th CERA webinar is free for CAS members, as it is intended to share new information on this designation with the membership. We plan to offer more such free sessions focused on CAS-specific issues for members during 2012.
Details on webinars and other CAS continuing education offerings scheduled for 2012 can be found in the Professional Education section of the CAS Web Site.
The CAS Webinar Committee would love to hear from you!  If you would like to recommend topics for future Webinars, please "Leave a Reply" below.