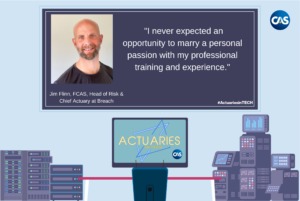 Jim Flinn, FCAS, MAAA is the Head of Risk & Chief Actuary at the InsurTech startup Breach Insurance, where they are building a full stack insurance carrier to serve the growing crypto and blockchain industry. Jim spent nearly 20 years in the traditional insurance space at established carriers before taking the leap into the world of startups and crypto.  
Jim started his actuarial career at USAA pricing property lines for several years before moving to American National as a catastrophe modeler. He then worked in reserving, reinsurance, predictive modeling and ultimately Enterprise Risk Management serving as the Chief Risk Officer. Jim credits that breadth of experience as great preparation for his current role.  
"I had some wonderful opportunities to work in all sorts of disciplines. From pricing and modeling to reserving and reinsurance, I was able to at least get exposed to various areas if not get deep dive experience. I was also put in front of regulators and reinsurers and rating agencies which helped me develop my public speaking abilities. I've drawn on all those experiences since joining Breach." 
On a personal level, Jim has been interested in cryptocurrencies and blockchain technology for quite some time but didn't expect to be working directly in the field. 
"I dabbled with crypto trading shortly after Coinbase opened their services to the public. A neighbor showed a few of us his wallet and recent gains at a get together. I asked tons of questions and then later that weekend opened my own account and started trading. It was all in good fun, but I never expected to get an opportunity to work directly in the field. I watched new coins hit the market and continued to read up on the field in my free time until meeting the cofounder of Breach." 
Breach Insurance is preparing to meet the unmet and growing need for risk transfer solutions in the crypto space. "The thing that drew me to Breach is the chance to build something new and truly grow the insurance market. Our products that protect consumers from crypto hacks are unique and at this point we appear to be the only ones going about it in a fully regulated manner. There are some insurance-like solutions in the defi space but from a consumer protection standpoint our policyholders well rest assured, knowing we are following insurance laws and regulations and have their best interest in mind."  
As the crypto markets continue to grow, so will the need for insurance solutions. As that insurance segment grows, actuarial talent will be needed. There will be more and more opportunities for actuaries to combine their interest in crypto, web3, NFTs, defi/cefi and blockchain tech with their traditional actuarial experience and training. Jim explained that "being able to apply actuarial methods and approaches that are time tested to brand new emerging fields like this space can be extremely rewarding and invigorating. I never expected an opportunity to marry a personal passion with my professional training and experience."  
For advice to other actuaries, Jim stresses the importance of getting exposed to as many fields as possible early in your career. "I don't think I ever turned down an opportunity to work on something new. There were times that the assignments felt like stretches for me personally but looking back I'm glad I always jumped in and took them on. I think I benefitted the most when a role or project felt brand new or even stressful. Two roles that stand out to me the most were when I first got involved in predictive modeling and capital modeling. Those were the teams I led that first made me appreciate you don't have to know as much as the people you are working with! I benefitted from working with some extremely bright actuaries that knew their work product and research extremely well." 
Breach Insurance is a Boston-based InsurTech company that provides regulated insurance products and a proprietary policy admin platform for the cryptocurrency market. Combining deep expertise in insurance, cyber security and crypto, Breach is building a global InsurTech, exclusively serving the crypto economy. Breach is currently hiring, reach out directly to Jim for more information.