No doubt, over the next few days or weeks, we will see several articles about the insurance impacts of widespread protests, riots, and looting around the country. While the financial impact is important and relevant to our employers, there's another impact we should be considering – employees and colleagues of color, especially black and brown colleagues, may be suffering. After months of self-isolation due to Coronavirus, news reports of multiple black men and women, including George Floyd, being treated as criminals, and killed by police while unarmed, have pushed many Americans to a tipping point.
A riot is the language of the unheard.  – Dr. Martin Luther King Jr.
What happens if you, as a manager or peer, keep your head down and do nothing? You miss a chance to build stronger relationships with your employees and among your teams and your company risks losing highly valuable and in-demand talent to companies and mangers that actively support their people. The innovation and agility benefit you may have had from building that diverse team will be lost. Instead, consider this advice:
Do not tell your colleagues they (or those protesting on their behalf) are overreacting.
Educate yourself on systemic and institutional racism in America. Do not ask your colleagues to explain to you what's going on. Read on for some key historical points that may help you build knowledge and empathy, then seek out books, news, and films to help you dig deeper.
Let colleagues know you are available if they need extra support.
Resist the urge to push or press but do check in and respect each person's desire to talk to you or not. Keep in mind they may not want to talk today but may need someone to listen tomorrow.
Give your colleagues space and cut them a break.
Likely all your employees are doing less than their best work while sheltering at home, managing families, home-schooling children, and possibly dealing with illness. Your employees of color are dealing with all of that too, as well as watching people like them being openly harmed on a regular basis. Cut people some slack and don't ask for or expect 100% from them for some time. Even better, provide your employees opportunities for self-care to help boost their physical, mental, and emotional health. This will pay dividends to you and your company in the future.
Black people in the US are getting infected and dying from COVID-19 at a disproportionate rate.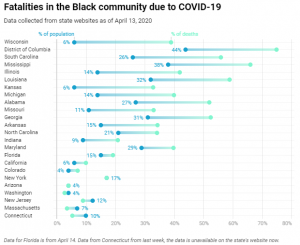 Charts Source: https://www.motherjones.com/coronavirus-updates/2020/04/covid-19-has-infected-and-killed-black-people-at-alarming-rates-this-data-proves-it/
Find ways to effect change.
Instead of being color-blind, (as in, "I don't see color, or I believe that all lives matter") be actively Anti-Racist. There are several organizations in the US lobbying for policy changes that would help Black, Brown and Indigenous people live as equal members of our society. Whether your interest is health equity, criminal justice reform, access to affordable housing, ending food insecurity or improving public schools, you can donate, vote, and tell your elected officials what is important to you. Notice how many of these reforms would benefit all Americans, not just people of color.
If you are neutral in situations of injustice, you have chosen the side of the oppressor.  – Desmond Tutu
Learn More- Exposing the Iceberg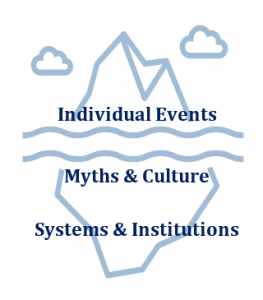 Many of us have heard of or seen examples of racist acts against black people over the last several years. However, some would suggest that the media makes it seem much more likely than it truly is, and that perhaps protestors are overreacting to rare instances of violence. In truth, these individual and interpersonal acts are just the tip of the iceberg of the racism that black people experience in America. What many of us are missing is what lies beneath. Individual acts of racism are supported by prevalent myths and culture, which is further bolstered by racist institutions and systems.
Take some time to digest the information below and then consider how the cumulative effects of these systemic actions and events may have impacted the lives of people of color in your life.
Notes and embedded links:
You can also read a statement from CAS President Steve Armstrong and CAS CEO Victor Carter-Bey here: https://www.casact.org/press/index.cfm?fa=viewArticle&articleID=4722
*(note based on Census data, most people who select "Hispanic" for ethnicity select "White" for race)
https://www.history.com/topics/black-history/slavery
https://www.bbc.com/news/business-49476247
https://www.themarshallproject.org/2016/09/27/a-primer-on-the-nationwide-prisoners-strike
https://www.loc.gov/exhibits/brown/brown-segregation.html
https://www.cnn.com/2020/06/01/us/tulsa-race-massacre-1921-99th-anniversary-trnd/index.html
https://www.cnn.com/2013/09/15/us/1965-selma-to-montgomery-march-fast-facts/index.html
https://www.washingtonpost.com/news/wonk/wp/2018/03/28/redlining-was-banned-50-years-ago-its-still-hurting-minorities-today/
https://www.bop.gov/about/statistics/statistics_inmate_race.jsp
https://www.bop.gov/about/statistics/statistics_inmate_ethnicity.jsp
https://www.census.gov/quickfacts/fact/table/US/PST045219
https://www.brookings.edu/articles/unequal-opportunity-race-and-education/