Co-authors include Chris Coleianne, FCAS, MAAA, Chair of the CAS University Award Working Group, and Associate Director and Actuary at Aon and Tamar Gertner, CAS University Engagement Manager.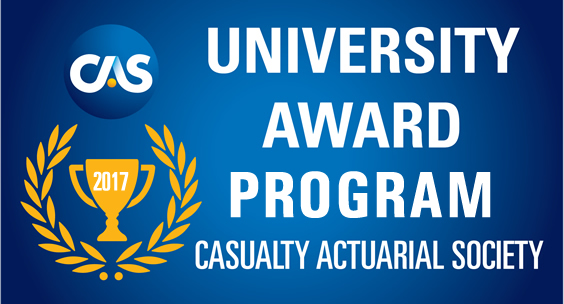 It has been one year since the CAS University Award Program was first launched by the University Engagement Committee to acknowledge and honor universities that excel in exposing actuarial students to the property and casualty field. The program recognizes up to three universities annually that are going above and beyond in incorporating property and casualty insurance in various areas of their actuarial science programs, such as curriculum, research, engagement, and innovation.
In the first year of the program, we didn't know what to expect as far as the number and types of applications we would receive. We reached out to the CAS membership to ask for your assistance in nominating qualified universities to be considered for the award. As you may know, actuarial science students have had limited awareness of the property and casualty insurance industry. However, that has been changing in recent years; with the increasing demand for the skills of credentialed property and casualty actuaries, schools have had success incorporating property and casualty curriculum into their programs.
Well, we can tell you that we were pleasantly surprised by the results. We received over 60 nominations for 24 schools throughout North America, Asia, and Australia. Not only were we impressed by the number of nominations submitted (thanks to many of you) but also by the caliber of the applications we subsequently received. The review process shed light on the fact that there are many exciting activities going on in the property and casualty space across university campuses. Actuarial science programs are incorporating property and casualty topics into their curriculum, participating in research on property and casualty topics, engaging with property and casualty employers and partners, and finding innovative ways to expose their students to the property and casualty field through special events, case competitions, and more!
Selecting three winners of the CAS University Award Program turned out to be quite the challenge. In fact, it was so challenging that the judges selected four universities to receive the award in 2016 among a very competitive field of applicants.
The inaugural winners of the 2016 CAS University Award Program were lllinois State University, University of California, Santa Barbara, University of Connecticut, and University of Illinois at Urbana-Champaign.  You can read about their exemplary programs on the CAS website. They each received a $5,000 grant to further enhance their programs, significant publicity, and an invitation to attend the CAS Annual Meeting in Orlando in November 2016, where they publicly received their award and presented a concurrent session.
The award packages will be the same for the 2017 CAS University Award Program, however the application process is slightly changed. The nomination round has been eliminated this year and we are inviting all interested universities to submit an application by March 15, 2017.  We would appreciate your assistance spreading the word to schools that you consider worthy to receive the award, to encourage them to apply, and to offer your support by writing a recommendation if requested. Winners will be announced on June 1, 2017. Thank you in advance for your assistance.
See the official 2017 CAS University Award Program announcement on the CAS website. If you have any questions about the program please contact CAS University Engagement Manager Tamar Gertner at Tgertner@casact.org.