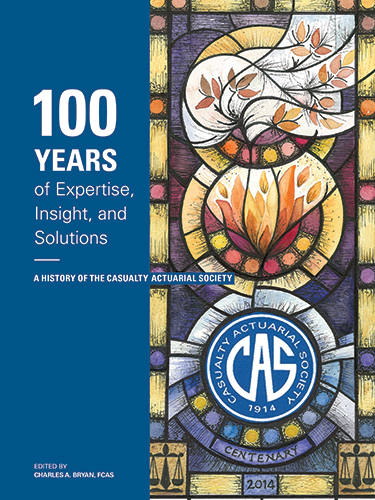 For any organization, paying tribute to 100 years of history can seem a daunting task. It will come as no surprise that the celebration of the CAS's centennial year – culminating in the CAS Centennial Celebration and Annual Meeting in New York in November – was decades in the making. Projects such as the CAS Centennial History Book and the CAS Centennial Celebration Website involved years of hard work by dedicated Centennial Committees, planning everything from event music to on-site special projects.
The CAS Centennial Marketing Committee was charged with creating a host of interactive projects that paid tribute to the organization's legacy. The committee's initiatives, which were on display at the CAS Centennial Celebration in November, included:
The CAS Wall of Names, a 40'x8' banner displayed at the Centennial Celebration that listed every person who has ever earned CAS credentials.
A Centennial Video that highlights milestones from 100 years of the CAS, including testimonials from the CAS's oldest living member.
The CAS Centennial Museum, which housed artifacts and exhibits from pivotal moments in CAS history.
Other important Centennial projects produced by dedicated committees included:
On June 15, Association Media & Publishing recognized the CAS Centennial projects for excellence in marketing and communications with two coveted EXCEL Awards. Competing against 850 other entries, the CAS received a silver award in the category of "General Excellence in Web Publishing (Event/Convention)" for the CAS Centennial Celebration Website, and a bronze award in the category of "Integrated Mixed-Media Campaign" for "Celebrating the CAS Centennial," a campaign that included the History Book, Wall of Names, Centennial Video and CAS Museum.
Although receiving these honors is validating for everyone that worked on the projects, we encourage you to take a look at the outstanding projects created by your fellow CAS members. You can download the free Centennial History Book, find your name on the Wall of Names, or watch the Centennial Video and other interviews with CAS pioneers. To be part of an organization celebrating 100 years of history means that for many, this celebration was truly once in a lifetime.
For more information about CAS recognition at the EXCEL Awards, visit our press page.