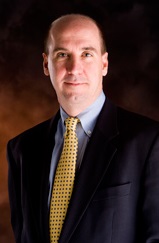 We'll have many things to celebrate at the CAS Centennial Celebration and Annual Meeting, scheduled for November 9-11 in New York City. Since our founding in 1914, the CAS has developed into an organization whose credentials are the most highly respected in the property/casualty actuarial profession. However, in order to maintain our leading position, we must continue thinking ahead to our next 100 years.
Centered around the theme "Celebrating Our Past, Focused on the Future," the Centennial Celebration will provide thought provoking sessions that encourage us to consider solutions to the challenges that lie ahead for the CAS and the audiences that the CAS actuary will serve. And who better to lead this discussion than our featured speaker, the renowned global futurist and award-winning author, Jack Uldrich? During his presentation, "Déjà vu and Vuja De: A Futurist Takes a Backwards Stroll into Tomorrow," Mr. Uldrich will use our profession's history to guide us into the future, while at the same time, explaining why our past will not be a reliable guide to tomorrow.
Mr. Uldrich has extensive experience guiding professionals through periods of transition and his presentation is sure to inspire interesting discussion among the attendees. As the founder and chief unlearning officer of the School of Unlearning, a global change management and technology consulting firm, he helps organizations and professionals prepare for and profit from periods of great transformation. Mr. Uldrich has authored eleven books and is a regular speaker on technology, change management, and leadership lecture circuits. More information about Mr. Uldrich's upcoming presentation and past achievements can be found on the Centennial website.
In addition to giving the keynote presentation, Mr. Uldrich will lead a concurrent session called "How to Think Like a Futurist." But don't wait for that session, I encourage you to start thinking like a futurist today. Where do you see the CAS and the casualty actuary in 100 years? What obstacles will we need to overcome? Leave a comment below with your thoughts.