For my President's Message columns published in the Actuarial Review magazine, I will be talking to distinguished actuaries who embody the new Envisioned Future for the CAS. Videos of these interviews will be available as Web Exclusives on the Actuarial Review website and the CAS YouTube channel.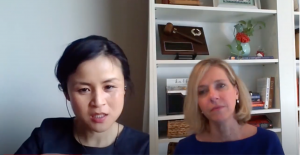 "I moved to Reno about 18 months ago for a new adventure and to become chief actuary of Employers. I guess in the back of my mind, I've always hoped that someday I would step into the CEO role if that opportunity presented itself, and it came about sooner than I thought," said Kathy Antonello, FCAS. She's Employers Holdings' incoming CEO and the CAS president-elect. In my second interview in the series, we talked about how she made the move from actuary to CEO.
Jessica Leong: Tell me more about Employers Holdings.
Kathy Antonello: The company itself used to be the State Industrial Insurance System (SIIF) for Nevada, a monopolistic state fund providing workers' compensation insurance to all Nevada employers. After experiencing financial difficulty, SIIF went through the transformation of becoming Employers, a private mutual, and then converted and became a publicly traded company, and so there have been a lot of changes over the last 20 years. For the next few months I'll be trying to learn everything from the retiring CEO, Doug Dirks, transferring as much knowledge as possible . . . and I'm doing the same thing at the same time with you and [CAS Board Chair] Steve [Armstrong] at the CAS.
JL: And how did you get involved at the CAS?
KA: I will be the first to admit that when I became an actuary the second time on the CAS side [after first earning actuarial credentials through SOA], my position in life was similar to where you are right now . . . I was very busy with my career and I had three children who were four, three and one. I spent the first 15 years of my CAS career working very hard and raising my family. I didn't have a lot of extra time to dedicate to volunteering for the CAS.
After my kids began to leave for college, that's when I said, "Well, it's time for me to give back." So, I joined the CAS Board. Working alongside so many talented executives is very rewarding. I'm constantly learning, which will undoubtedly help me in my role as CEO of Employers.
JL: So many questions for you. First of all, do you mean to tell me that you did your last few CAS exams while you had a four-year-old, a three- year-old and a one-year-old?
KA: Yes, because I didn't start taking CAS exams until I had two very young children. I can remember the three days before an exam — my husband has always been one of my biggest supporters in my career — he'd watch the children and I would check into a hotel across town and do nothing but study for 72 hours straight. I'd even eat all my meals at the hotel because it was really hard to get a lot done at home. Working full time during the day and then trying to study at night with three kids of that age was a little difficult.
JL: You were at the NCCI in the 90s, and then you went back and became their first female chief actuary, is that right?
KA: Yeah, that's right. I was there for about 4 1/2 years and then I left to become Chief Actuary for a company across town called Lumbermen's. I stayed there for about 12 years when Dennis Mealy, who was the Chief Actuary at NCCI, announced his retirement. I got a call from someone asking if I would be interested in interviewing. The six years that I was Chief Actuary at NCCI were some of the most rewarding of my career.
JL: And then from NCCI you moved to Employers. Why did you make that move?
KA: As much as I loved NCCI — I worked there twice — I really enjoy having clear success metrics. Getting filings approved is incredibly important for the industry and a lot of work goes into that. However, I wanted to work for a profit-driven company that has tangible metrics like target combined ratios and sales goals. I missed that environment.
JL: And did you move with an eye towards "one day I want to become the CEO."
KA: I did. I've always thought, "Boy, that would be the ultimate achievement" . . . and I've always thought of myself as a business person and actuary. I wouldn't call myself an actuary's actuary. Because all aspects of the business are interesting to me, I would find myself getting involved in HR matters or having a strong opinion on a marketing strategy. I just wanted to take everything I've learned over these 35 years of being an actuary and apply it to the bigger picture. So yeah, it was something I really wanted.
JL: Not very many actuaries make it to the CEO job. How did you make that transition?
KA: You know, I think it's as simple as setting your sights on whatever you want to achieve. For me it was showing my worth in multiple areas of the business and just constantly trying to get involved in different projects. I've learned that I need to . . . push myself outside of my comfort level, like doing the "State of the Line" [presentation] at NCCI. I'll never forget the first one I did, my knees were literally shaking, and somebody had to push me out on the stage from behind the screen. Once I was out there, it wasn't so bad. I don't think many actuaries would want to get up on the stage in front of 800 people and do an hour long presentation. The only way to grow is to push yourself outside of your comfort zone. I won't stop doing that anytime soon.
*This blog post is published in conjunction with the CAS' Women's History Month campaign #WHMxCAS