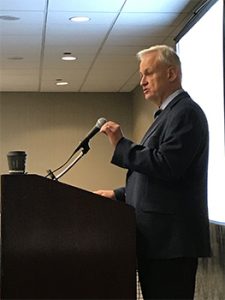 Our annual CAS Leadership Summit, held September 7-8 in Chicago, was a huge success thanks to the great group of volunteer leaders and staff who attended. The Summit is organized by the President-Elect to set the stage for the coming year as President, and I'm proud to have had the opportunity to host this year's Summit.
The key themes discussed at the Summit included volunteerism, diversity, and education. I've recapped the highlights of the Summit below.
Volunteerism: CAS volunteers are the lifeblood of our organization, and with 1 in 3 of our members volunteering, we have a large advantage in educating casualty actuaries and conducting relevant research. The discussions on volunteerism were designed to provide our leaders with tools to be more effective, headlined by a session on "Engaging and Motivating Volunteers" led by facilitators from the American Chemical Society, a partner we have engaged to learn best practices. Thanks to Julie Stenberg, Kate Smith, and Jeanne Crowell for organizing this session.
The CAS staff is crucial in supporting the work of our volunteers, and I led a discussion on how volunteer leaders can better utilize the staff. As an example of our capable staff, I mentioned Kathleen Dean's work to relocate this year's Annual Meeting. I also highlighted several success stories shared with me by volunteer leaders of effective staff-volunteer partnerships.
Finally, we discusse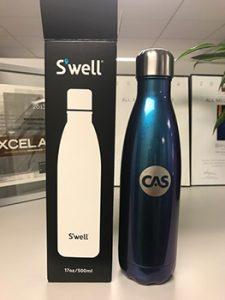 d our new Volunteer Recognition Program, which awards CAS-branded Swell bottles to our "Swell Volunteers." I encouraged committee chairs and vice chairs to nominate volunteers for recognition — our goal is to recognize 25% of our volunteers in 2018. I was happy to present awards to our four inaugural winners:
1. Steve Lowe – our current Board Chairperson and a longtime volunteer who has represented us as President as well as in many other roles.

2. Bob Miccolis – another longtime volunteer and Past President, and the driving force of our iCAS initiatives.

3. William Wilder – a leader within our exams and admissions process who has dealt with various challenges this past year.

4. Alejandro Ortega – the current President of the Organization of Latino Actuaries (OLA), and the driving force behind the formation of OLA.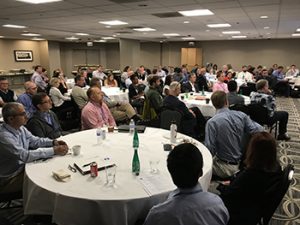 Diversity: The second key theme of the Summit, which is important to me and the CAS, is diversity. Shane Barnes, CAS VP-Marketing and Communications, shared the various diversity initiatives in progress at the CAS. We were also fortunate to have three excellent presenters representing the newly created Organization of Latino Actuaries (OLA) and the International Association of Black Actuaries (IABA). Alejandro Ortega introduced OLA to our attendees, and Sharon Robinson and Kwame Davis presented on IABA activities. Both groups have a passionate membership and do great work to further the diversity of our profession. The CAS fully supports both organizations and looks forward to expanding our joint efforts in the future.
Education: The last major theme of the meeting was education. The CAS is the premier educator of casualty actuaries and we realize that maintaining this position will require hard work year in and year out. We are dedicated to this effort! Education discussions included:
William Wilder presented on the significant exam-related initiatives underway.
Joanne Spalla and Todd Lehmann presented on the new credentials being offered through The CAS Institute, namely the Certified Specialist in Predictive Analytics (CSPA) credential, which has already been earned by 55 individuals.
Nancy Braithwaite, current CAS President, outlined the refresh of our Strategic Plan, which has a significant focus on education.
Finally, I shared some of the recommendations from the Board Task Force on Strategic Education, which is addressing several new education ideas.
As if that wasn't enough to set the stage for next year, I shared a draft of my goals for my year as President. I will post a final version of my goals in a future blog post.
It was a very exciting meeting. I am looking forward to my Presidential term to serve such a great organization and to work with a fantastic group of volunteers and a very capable staff.