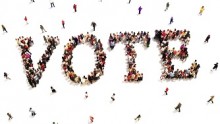 Did you know:  Only one-third of all eligible voters cast a ballot each year in the CAS elections? This year, with only two weeks to go, just 20% have voted.
As an organization, I am confident that we can do better.  And I know our voters like a good challenge. After all, we all took exams, right? Help CAS push the voting percentage higher than ever before and watch the numbers grow on the new CAS Ballot Counter. Let's make history. #CAStyourballot
The Importance of Voting
This is an exciting time for the CAS — we have 100 years behind us and are building for the future in a new competitive and ever changing environment. Member engagement has always been a cornerstone of the organization which makes YOUR voice an important one to be heard – maybe now more than ever.
If you are like me, you are proud of having attained your FCAS, are proud to be associated with the CAS, and are proud to call yourself an actuary. Those elected will help lay a roadmap for the next 100 years of our organization and our profession. What could be more important?
How to Vote
The CAS heard member feedback that voting was too cumbersome and that members were too busy.  In response, we streamlined the voting experience over the past few years.  Follow the four simple steps below to make your voice heard.
Step 1: Study Time (notecards not required).
Read up on the candidates. Check out the CAS Meet the Candidates page or the most recent issue of the Actuarial Review for candidate position statements, 100 word descriptors, and answers to member questions. Make an informed decision!
Step 3: Remind your coworkers and friends to vote! Post on Facebook, Twitter, LinkedIn – it's the new age "I Voted" sticker.
Step 4: Watch your email in September for election results as the votes are tallied.
So Fellows, what are you waiting for? #CAStyourballot