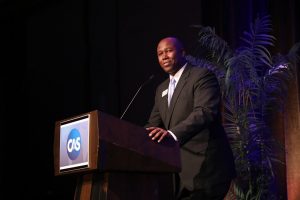 It has been a great first two weeks here at the CAS; the welcome from the staff has been incredible. I remain humbled by the opportunity I have been afforded to help represent such an amazing organization.
Whether it be through my formal orientation with the staff, hallway conversations, or grabbing a bite to eat during our Fall Potluck, I have gotten the sense that we have a staff that is hungry – hungry to grow, hungry to learn, and hungry to bring even more value to our current and future members. Having the opportunity to channel that hunger through growth and development opportunities for staff is personally very exciting, and there's no time like the present to get started with those goals.
Speaking of goals, one of the most common questions I have received is about my goal-setting. While I will certainly work with the Board to set goals, I would characterize my thinking as more thematic than goal-oriented.
Some of the themes that I have prioritized are:
Innovation
Innovation is important to me because it surpasses simply generating a great idea. Innovation demands that we take great ideas and transform them into great solutions.
Differentiation
Differentiation is similar to innovation and represents a concerted mindset to be unique and to deliver value in creative ways. As it relates to differentiation, Michael Porter, management guru and professor at Harvard Business School, says that "competitive strategy is about being different. It means deliberately choosing a different set of activities to deliver a unique mix of value." I truly want CAS to be recognized as the standout in the eyes of the actuaries and our like-minded organizations.
Growth
Growth is also another critical element of my priorities. I am interested in growth not only in increases in members, but growth in the geographies that we serve and the international markets we reach.
Efficiencies/Simplification
Efficiencies and simplification speak for themselves. I recently read the quote: "Simplicity is the soul of efficiency." CAS has many opportunities to be simpler and more efficient in the way that we do things, and we will!
Member-Centricity
Member-centricity is another imperative that I want to focus on. Anything and everything that we do has to be considered in the context of what's good for our current and future members. I believe our success will directly stem from the success, satisfaction, and loyalty of our members.
CAS Talent Development
Talent development is also an important priority. As organizations begin to transform into more technologically-savvy entities, there needs to be a shifting of the skills and competencies that each employee brings to the table. I see the CAS evolving into an organization of upskilling and innovative problem solving.
So now comes the fun part, turning these themes and aspirations into concrete goals that we can all get behind and work towards. That will require creativity, strength and focus. It's akin to the football team who goes through grueling summer practices to get ready for its season, the pianist who practices to the point where he develops blisters, the marathoner who is feeling the burn in her legs, but knows she needs to metaphorically push herself through the "wall" in order to achieve a new best time. For me it's all about the mindset and the desire to not just be good, but to be great!
Now with all of that said, I should say that I am so fortunate to come to an organization that has achieved so much under Cynthia Ziegler's leadership. Cynthia has been an absolute treasure for me and represents all the amazing things about CAS. I can only hope to achieve a fraction of her success with this organization. Thank you, Cynthia.
So, again, I am excited and ready to begin our journey together and thank each of you in advance for your graciousness and your willingness to keep evolving. I will always leave you with the following, which is a personal mission statement that I bring to the teams that I work with: Let's work hard, let's work smart, and let's have some fun while doing it!